Extracorporeal Shockwave Therapy (ESWT)

Maybe you've used your joints, tendons, and ligaments too hard mountain biking in the Grand Valley, running a half marathon on the Monument or up on the Mesa or just living the active Grand Valley lifestyle. The result could be an acute or chronic, overuse injury. Shockwave therapy in Grand Junction is a safe and effective solution, to get rid of the pain, and repair the damaged tissue.
---
WHAT IS SHOCK WAVE THERAPY in Grand Junction?
Extracorporeal Sound Wave Treatment (ESWT) also called radial pressure wave (RPW) is a well-tested and clever way to treat soft tissue injuries without direct interventional treatment. It is commonly used for the treatment of soft tissue and bone disorders around the hip, knee, shoulder, spine, hand, elbow, and foot.
---
HOW DOES SHOCK WAVE THERAPY WORK?
Essentially, the sound wave, which has no electrical current, takes a chronically dormant and injured cell and converts it to an acutely injured cell, causing it to rebuild. The sound wave causes an increase in blood flow and metabolic activity around the site of injury and stimulates the body's natural self-healing process. The shock waves break down injured tissue and calcifications in the area. Some of the research out there shows the following benefits of ESWT: reduce pain, aid in healing, re-establish blood flow, decrease muscle stiffness, increase tissue metabolism, stimulate collagen production, diagnose, and treat myofascial trigger points, help dissolve calcific fibroblasts & scar tissue, and reduction of Substance P (a pain generating neurotransmitter).
The break-down of scar tissue is the key to why shock wave therapy is so effective. Unlike normal elasticated tissue, scar tissue is non-elastic and will prevent normal movement and function. The scar tissue weakens the unaffected tissue surrounding it, often causing further damage and pain. By increasing circulation and breaking down scar tissue, shock wave therapy will stimulate cell regeneration and promote normal healing and rapid reduction of pain. Normal function can then be restored.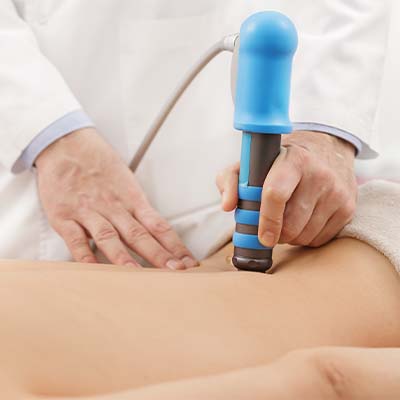 WHAT ARE THE BENEFITS?
No anesthesia
Non-invasive
No medication
Fast treatment (~15 mins per session)
5-6 sessions generally (with some cases up to 10)
Fewer complications
Significant clinical benefit often seen 6-8 weeks after treatment
LIST OF CONDITIONS TREATED WITH SHOCKWAVE THERAPY?
back pain
neck and shoulder pain
knee pain
plantar fasciitis
SI joint pain
elbow tendonitis
femoral pain syndrome
tendinitis of wrist
pain in arch of foot
IT band syndrome
tendonitis
middle back pain
bicep tendonitis
shoulder tendonitis
shoulder impingement
frozen shoulder
pain behind knee
lower left back pain
rotator cuff injury
bursitis knee
supraspinatus tendonitis
elbow pain
+MORE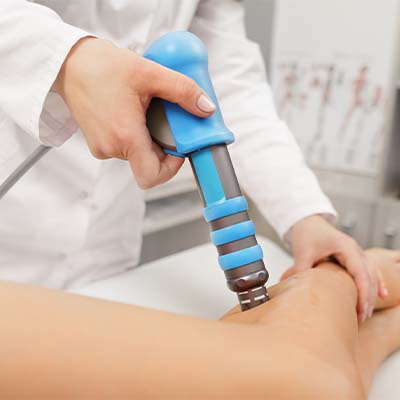 OFFICE HOURS
---
Monday
8:00am - 5:00pm
---
Tuesday
8:00am - 5:00pm
---
Wednesday
8:00am - 5:00pm
---
Thursday
8:00am - 5:00pm
---
Friday
8:00am - 5:00pm
Spine & Injury Center of
Grand Junction
2646 Patterson Road Suite A
Grand Junction, CO 81506
(970) 436-4400